Fox Tail looks so fun. Not only the humiliation of spending a day wearing a butt-plug, stockings, garter & heels, but this tail softly caressing the back of my thighs with each step. My hips swaying, my butt wrapped around the plug. The arousal can be unbearable.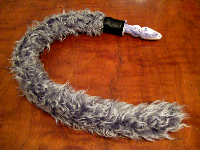 But of course, this Kitten Cream tail can be equally arousing. And to serve my "girl friend's" party as her maid wearing this tail. I know she will be telling each of her friends to play with the tail, and give it a little tongue or twirl.
Of course playing a Pony, has been an enticement to my imagination.
My dreams would be to wear a sexy Bunny in high heels, wearing a tail with a plug.
But when I am bad, I know I'll be forced to be a little piggy, and gladly take my medicine. This one has a string attached to the 'clitty', tugging on it & pulling back towards the tushy. Such anguish! But I know what my pain would be as an alternative.